Panther Creek Cherokee Wedding Chapel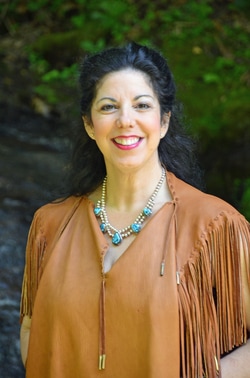 Noel and Miriam Blakely had a vision to provide couples the opportunity to be married on the Sovereign ground of the Eastern Band of Cherokee Indians on the Reservation. Noel has been a part of this community since birth. We pride ourselves on our elevated service standards and unequaled reputation for courtesy and follow-through.
Miriam has been ordained Minister for over 15 years and will work with you to come up with the right spiritual words to walk into your future with the one you love.
Noel and Miriam love the mountains and its people, and are in love with the idea that they can share this experience with you and your love and guests.
Panther Creek Resort has one of the most romantic and mountain rustic sites for your wedding in Cherokee, amid Western North Carolina's Smoky Mountains. Whether you prefer a casual event or a destination wedding, we ensure that you and your guests have the best experience possible. We are located on the Eastern Band of Cherokee Indians.
The quaint and cozy country setting of the rustic cabins alongside our rushing creek and immaculate lush landscaping, all add up to the perfect combination for your wedding and reception. From the moment you begin planning your event, our staff will help you every step of the way. Destination wedding and event packages are available.
We welcome outside vendors, planners and caterers or you may select from our preferred event partners. Mother Nature provides the magnificent scenery - we provide the lodging, setting, planning and hosting to make your event memorable. When you reserve the entire property, you will enjoy lodging in all nine of our cabins – accommodations for up to 45 guests. You also have the option of reserving individual cabins if you don't need all nine of our cabins.
Cherokee Wedding Chapel
Are you looking for a quaint and intimate setting for your wedding in Cherokee, North Carolina? We have built a beautiful little wedding chapel for traditional Christian weddings and renewal of vows. We offer wedding packages that would include your honeymoon stay in our prestigious cabin or just a simple wedding to make your love official. We are located on the Cherokee Indian Reservation up and away from city noise and in the peace of God's mountain. For more information, just call or fill out the Wedding Information Request form.
Panther Creek Cabins offers a wedding experience surrounded by the nature of the Indian Reservation. We offer a variety of packages and a list of wedding vendors for your photographer, caterer, cake, and florist. Our little wedding chapel can hold 24 guests. We also offer a traditional Cherokee Wedding with wedding vase included and an optional wedding blanket.
Marriage License:
Getting Your License must be at: Jackson County Register Of Deeds 401 Grindstaff Cove Road, Suite 108 Sylva, NC 28779 (828) 586-7530 8:00 a.m. - 4:30 p.m. / M - F Closed for holidays. No waiting period. Identification required. You do not have to be a resident of North Carolina, however you must have proof of age and your social security card.
Pricing
Prices can change without notice.
Heading
Price
Renewal of Vows
$175.00 only the two of you
with guests
$200.00
Simple Wedding
$195.00
Wedding with guest
$250.00
Wedding with guests over 20
$325.00
Wedding Packages starting at
$475.00
All weddings on Sunday is subject to availability and a additional charge of $50.00
Cherokee Wedding vase included
$250.00
Cherokee Wedding blanket
$195.00 ea.
Cherokee Wedding with guests under 20
$375.00
over 20 open for discussion.
All wedding packages must be paid in advance and are non refundable.
Panther Creek Cabins
In The Great Smoky Mountains
On the Indian Reservation
Heather Kindy from Visual Awakening:
​Judy Blythe - Wedding Coordinator
Contact For Other Services
Granny's Kitchen can cater your wedding event 828/506-1391ask for Ray