Welcome to the Great Smoky Mountains!
Relaxation is what a vacation in the Great Smoky Mountains is all about. There is no better way to spend your time in the smoky mountains than to experience the creekside cabin rentals of Panther Creek Cabins in Cherokee, NC. 

Choose from a variety of year-round creekfront cabins with mountain views. Honeymoon cabins, secluded cabins, and cabins for large groups are all decorated with vintage and antique decor, along with Native American art and craft. Panther Creek Cabins are always clean, comfortable and cozy. Amenities include fireplaces, jacuzzi tubs, and full kitchens and baths. We also offer:
Porches with rocking chairs
Creekside decks
Picnic areas with grills
Firepits
Hiking trails on the property
Linens and towels
Cable TV but not in Ft. Apache or Fox Magdaline
Air Conditioning but not in Ft. Apache or Fox Magdaline
Furnished Kitchens
Gem Mining in the creek
NO WIFI, and cabins have Jacuzzi's (not Hot Tubs) except for Ft. Apache and Wolf Ledge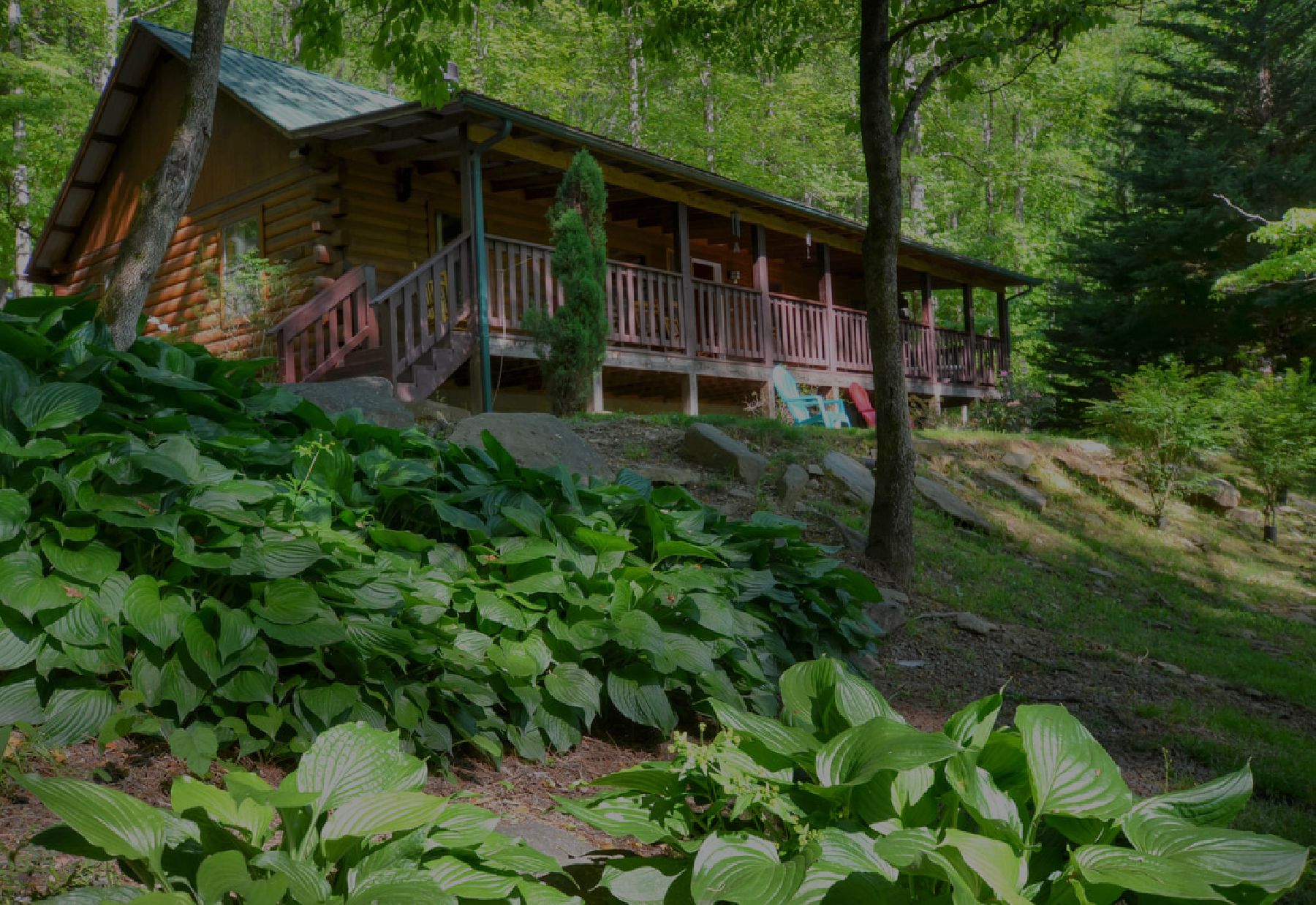 Pet fee is $49 for the first dog and $39 for the second dog plus you must sign an agreement and a deposit which is refundable based on no damages or mess of pet of $150 for one and $200 for two.  Crates are a MUST! In all cabins except for  Fox, Mt. Springs, and The Ponderosa Cabins which includes Indian Creek, Bear Crossing and Wolf Ledge.
The Great Smokies are some of the oldest mountains in the world and the majority of them are in western North Carolina. It's no surprise that Panther Creek vacation cabin rental property visitors are spending so much time in the great outdoors. Our log cabins are the perfect location to venture out on adventures such as whitewater rafting or tubing down the Oconaluftee River. For those who don't enjoy rafting, a cool hike to our area waterfalls, a horseback ride along our mountain trails, a drive on the Blue Ridge Parkway or a battle between man and fish with our famous trout fishing. 

Or just relax on your Creekside porch and listen to the peaceful sounds of Wrights Creek. Mother Nature has blessed us with some of the most scenic and serene landscapes for you to just kick back and relax. The only noise you'll hear...is the creek!

From fishing to hiking and all the rafting in between, Cherokee in western NC is the place for sharing a family vacation in the Great Smoky Mountains. At Panther Creek Cabins, we strive to ensure your log cabin rental is all you hope for in your Smoky Mountain vacation.

Minutes from Harrah's Cherokee Casino, downtown Cherokee, fishing, rafting, tubing, hiking, skiing, shopping, canoeing and kayaking, and fine dining, yet far enough from the activities to enjoy a private, secluded vacation and feel like you're a million miles away!

Explore our website to find out more about the Cherokee, NC area and our vacation rental program. When you've decided "This is the place!", check out our available vacation cabin rentals, and contact us to book your reservations for one of our creekside cabins!